Dear Art Lovers
Das Museum Gmünd im Prediger zeigt vom 23. Oktober bis 10. April 2023 die Ausstellung "TIMELESS SILVER". Das Museum, das Forschungsinstitut Edelmetalle + Metallchemie (fem) und wir, HELGA MATZKE Kunsthandel, haben eng zusammengearbeitet, um diese erstaunliche und intellektuell ansprechende Ausstellung gemeinsam zu kuratieren.
Dieser besondere Genius Loci ist Ausgangspunkt für die Sonderausstellung "TIMELESS SILVER", die die materiellen Vorzüge, die Vielseitigkeit und die visuellen Eigenschaften des faszinierenden Metalls in den Fokus rückt. Unvergleichlich ist der klare Silberglanz des Materials, das, je nach Art der Behandlung, auf Hochglanz poliert, als spiegelreflektierend oder matt, als helle, noch stark reflektierende Oberfläche erscheint. In sechs thematisch gegliederten Kapiteln treten über 80 Meisterwerke der historischen und zeitgenössischen Silberschmiedekunst in einen epochenübergreifenden Dialog und erzählen ihre Geschichten als Auftragsarbeiten oder als außergewöhnliche, künstlerische Schöpfungen: ausgehend von einem um 1400  in Burgund gefertigten, höfischen Löffel über kirchliches Gerät und königliches Tafelsilber bis zu einem eigens für die Ausstellung konzipierten Raumensemble, das sich als Gesamtkunstwerk präsentiert.
Die Gestaltung von Silber bietet viele kreative und technische Möglichkeiten. Die Kenntnis der Materialeigenschaften ist die Grundlage, um ein einfaches oder außergewöhnlich komplexes Design in ein dreidimensionales Kunstobjekt zu verwandeln. Die Ausstellung untersucht die verschiedenen Techniken der Silberschmiedekunst bei der Formgebung und künstlerischen Ausarbeitung im Hinblick auf die Texturen und Strukturen von Oberflächen, wobei die Kontinuität jahrhundertealter Arbeitsverfahren bis in die Gegenwart beleuchtet wird. Dabei lassen sich die handwerklichen Techniken studieren, die den Gold- und Silberschmieden zu Gebote stehen: neben dem obligatorischen Gießen, Ziselieren, Punzen und Vergolden auch das Gravieren und Ätzen. Im Hinblick auf die technischen und gestalterischen Aspekte der Silberschmiedekunst ist es der Ausstellung ein Anliegen, ein Qualitätsbewusstsein für die charakteristischen Merkmale der Produktion in den dominierenden kunsthandwerklichen Zentren Mitteleuropas in der frühen Neuzeit zu vermitteln. Die Vielfalt dieser Zentren nehmen ausgewählte Stücke aus Augsburg, Nürnberg, Ulm, London und Paris in den Blick.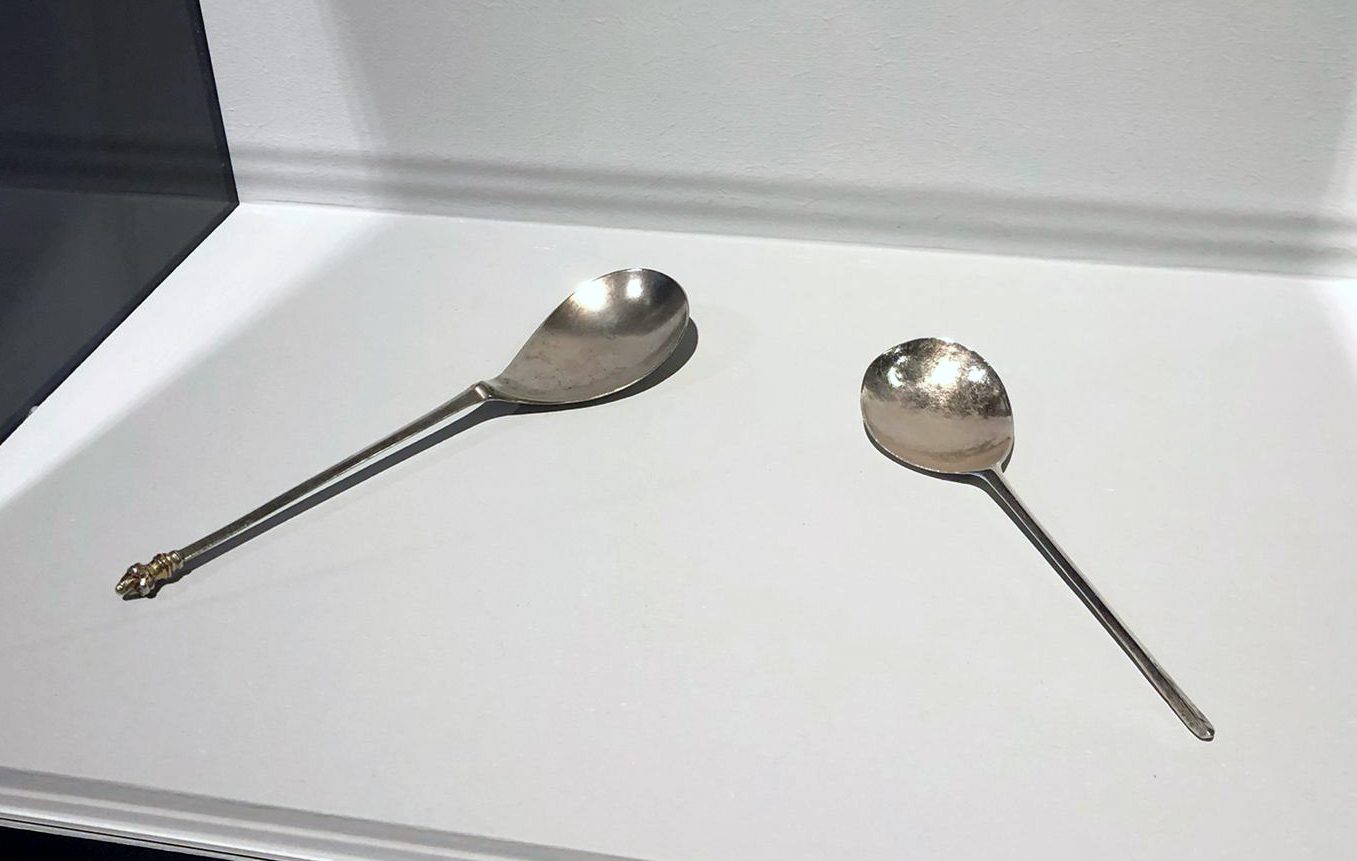 GMÜND
Ausgangspunkt dieser Sonderausstellung ist der Ort selber, der besondere Geist, den Schwäbisch Gmünd als Stadt der Gold- und Silberwarenproduktion ausgeprägt hat. Die enge Verflechtung von Schwäbisch Gmünd mit der Produktion und Geschichte des Silbers, die bis heute andauert, war von zentraler Bedeutung für das Entstehen und die Tragweite der Ausstellung.
Die Ausstellung zeigt zwei französische Silberlöffel, herausragende Beispiele der Goldschmiedekunst, die als solche unser Verständnis der spätmittelalterlichen Esskultur anregen. Die älteste Silberarbeit in der Ausstellung, ein Löffel aus Burgund um 1400, wurde kürzlich von einem Privatsammler von uns erworben, verkörpert die Tafelkultur der Renaissance. Zu einer Zeit, als Löffel noch aus Holz geschnitzt wurden, zeigt seine schlichte Kreation aus Edelmetall durch sein schlankes Design eine ausgesprochen elegante und immer ansprechende Zeitlosigkeit.
DESIGN, FORM UND DEKORATION
Das zweite herausragende Kapitel ist das des Designs, der Form und der Dekoration, hervorragend wiedergespiegelt in der präsentierten Sammlung von Bechern und Kaffeekannen. Becher, als meist begehrte Silberobjekte der Geschichte, schaffen durch die Nachverfolgung ihrer ästhetischen Entwicklung eine umfassende Erzählung und zugleich einen visuellen Anker innerhalb der Ausstellung, die dabei helfen das Bestreben der zentralen Ideen und Konzepte des Kurators hervorzuheben.
Wie sich das im 17. Jahrhundert äußerst beliebte "Schlangenhautdekor" zeitlos modern fortschreiben lässt, offenbart unser Schlangenhautbecher des Memminger Meisters Christoph Laminit aus der Zeit um 1630. Die anspruchsvolle Handwerkskunst, die erforderlich ist, um einen Schlangenhauteffekt auf einem Becher darzustellen, ist die perfekte Einführung in die Art und Weise wie Silberbecher als Gefäße für inspirierte Meister verwendet worden sind um das Edelmetall zu erforschen und mit ihm zu experimentieren. Unser Becher wird im Vergleich zu einem zeitgenössischen Becher von Fabian Färber, 2015 präsentiert, aus der Sammlung Schwäbisch Gmünd. Obwohl die Darstellung unterschiedlicher struktureller Einzelheiten in ihrer Oberfläche vereint ist, zeigen bei beiden Bechern manipulative Techniken visuelle Spektakel und Kuriositäten.
Diese technischen Möglichkeiten werden auch bei unserem Deckelhumpen um 1700 aus Halle/Salle, Meister: August Hosse, deutlich. Der zylinderförmige Körper von Hosses Gefäß ist vergoldet und umschließt einen abnehmbaren, durchbrochen gearbeiteten Reliefmantel aus Weißsilber. Diese ungewöhnliche Technik verleiht der Akanthus angeregten Dekoration sowie der abgebildeten biblischen Szene Kontrast und Tiefe.
Die Sequenz silberner Kaffeekannen veranschaulicht nicht nur eine beeindruckende Vielfalt an Gestaltungsmöglichkeiten, sondern erläutert auch, wie sich das Design im Laufe von drei Jahrhunderten verändert hat. Die Erzählung beginnt mit unserer Kaffeekanne aus London, 1713/14 mit den Meistermarken Robert Timbrell und Joseph Bell als älteste Kanne der Ausstellung. Mit einer beeindruckenden geometrischen Form, die sich der Abstraktion nähert, beginnt die Kaffeekanne die Reihe mit einer klaren Aussage. Dabei werden die zentralen Themen der Ausstellung in Frage gestellt; die Weiterentwicklung des Designs mit Silber und die zeitlose Mühe des Materials.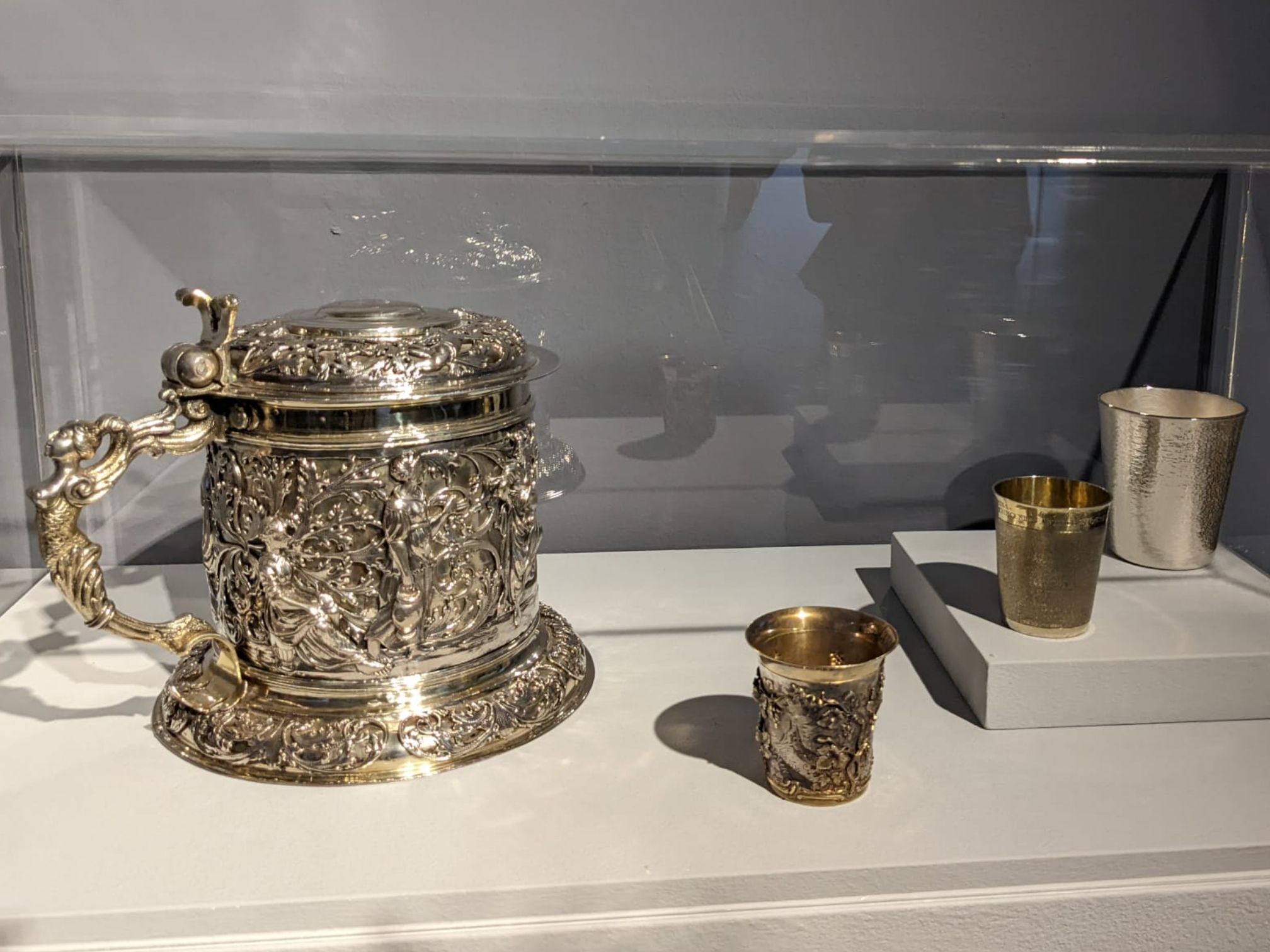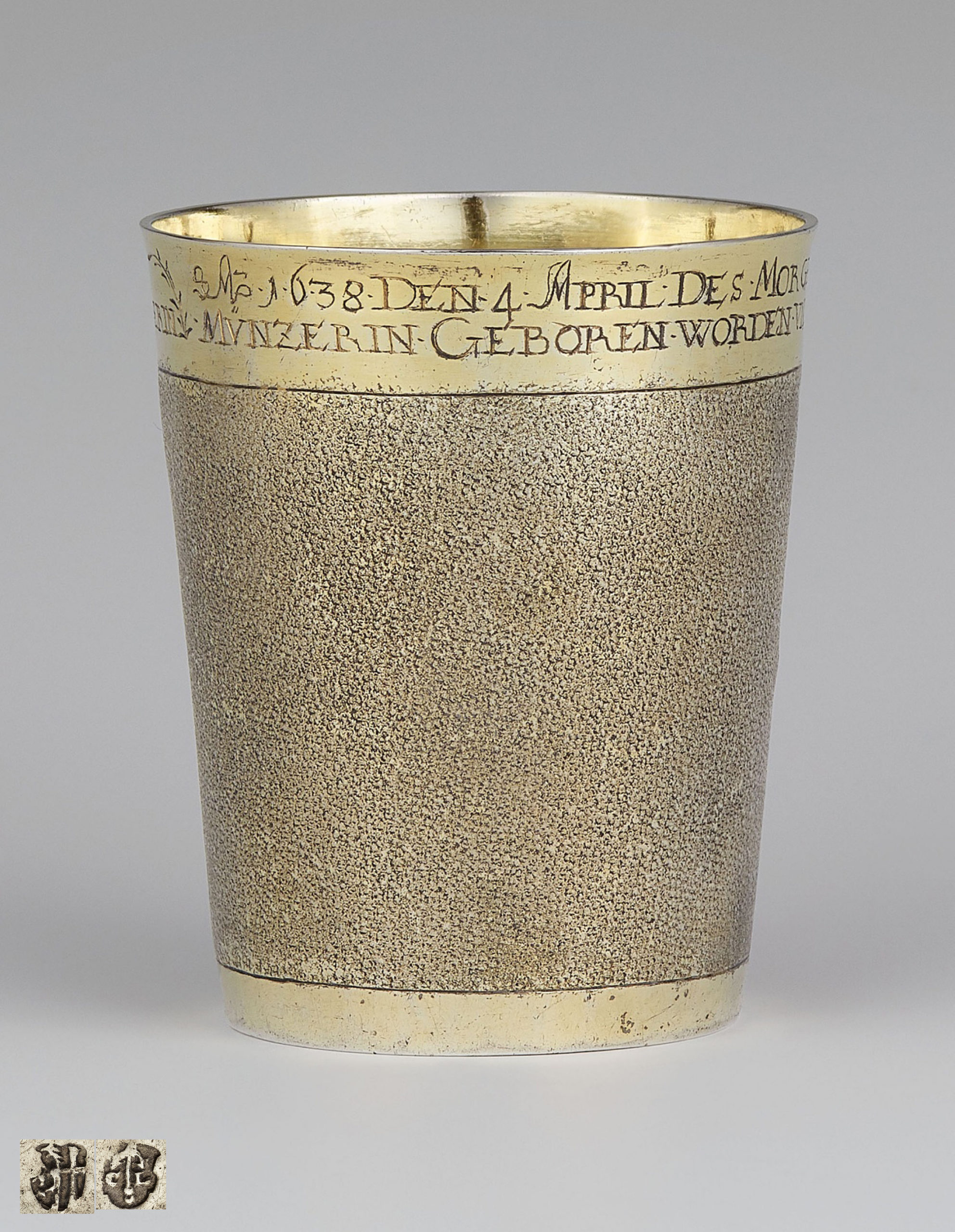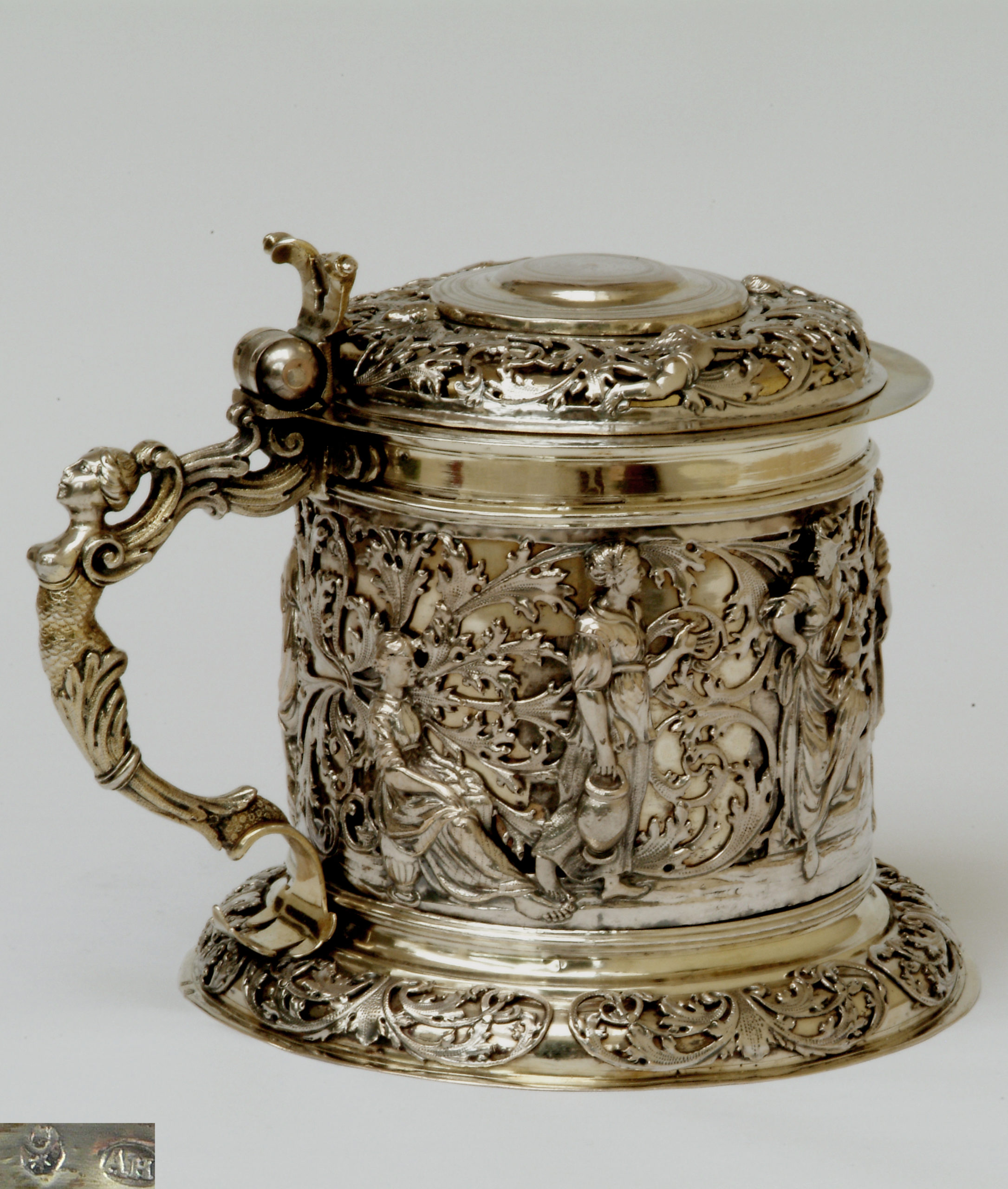 DAS SPIEL VON LICHT UND SCHATTEN
Das Spiel von Licht und Schatten ist zentral, wenn es darum geht, Silber in jeder Situation zu präsentieren. Sein zartes und durchdachtes Zusammenspiel innerhalb dieser Ausstellung ist für den hervorragenden Eindruck der dargestellten Stücke unerlässlich. Besonders gut zu beobachten ist dies bei drei Terrinen aus dem Besitz von Ernst August I., König von Hannover, mit Marken von Paris 1798 und 1809 sowie Augsburg 1811, Leihgabe aus unserer Sammlung. Form und Funktion des Terrinenensembles spielen reizvoll mit Schatten, die die Größe und Bedeutung der Objekte in ihrer Gesamtheit als auch ihren Platz in der Geschichte betonen. In ähnlicher Weise stellen wir vier Schalen aus dem Service der Herzöge von Württemberg-Oels aus Breslau, Schlesien, 1761-1771, vor, die ungewöhnlich durch die kleeblattartige Form mit profilierten Rändern das Schauspiel des Lichtes ins Spiel bringen und somit die besonderen Bedeutung und den Effekt von Silber würdigen.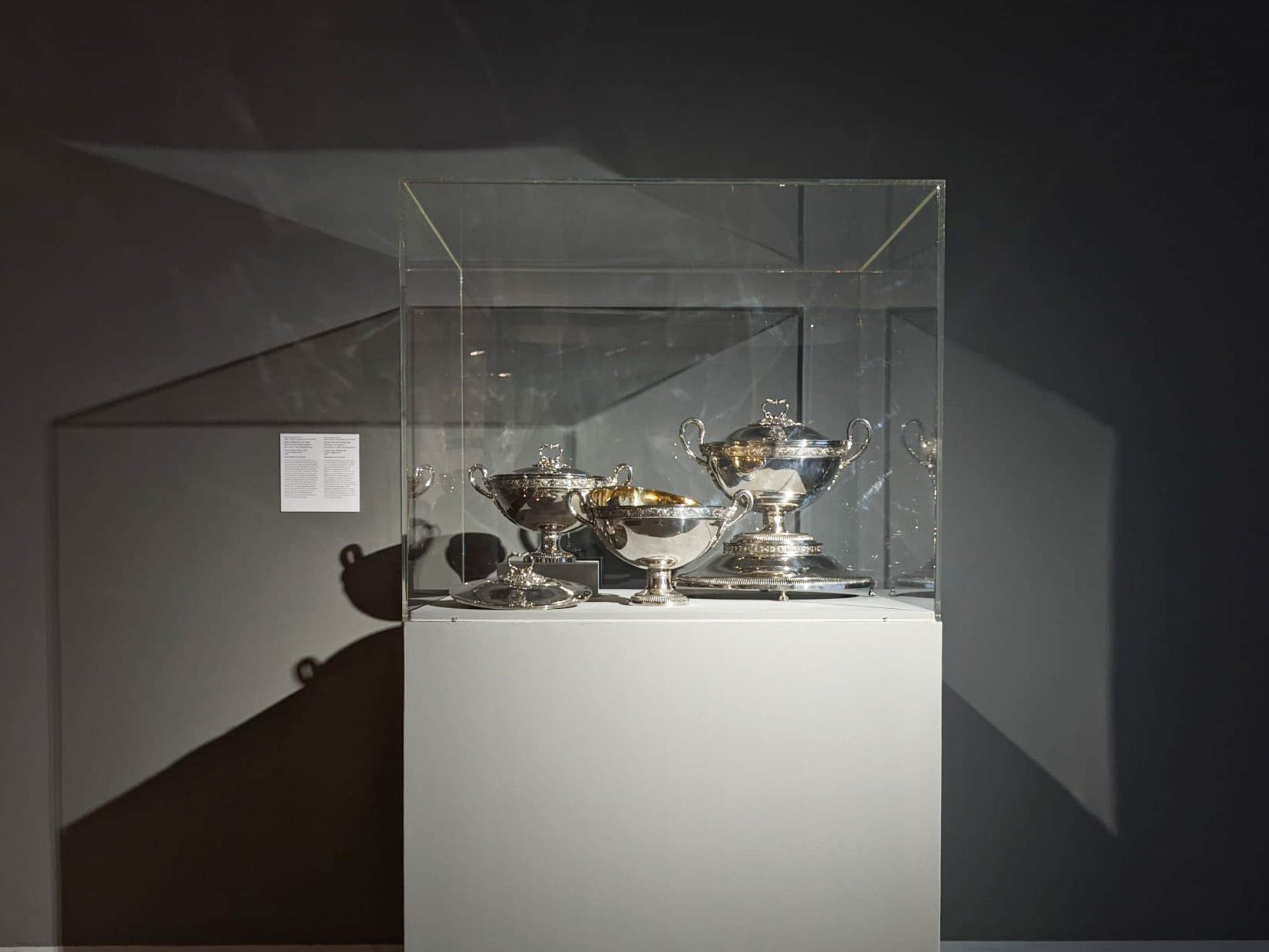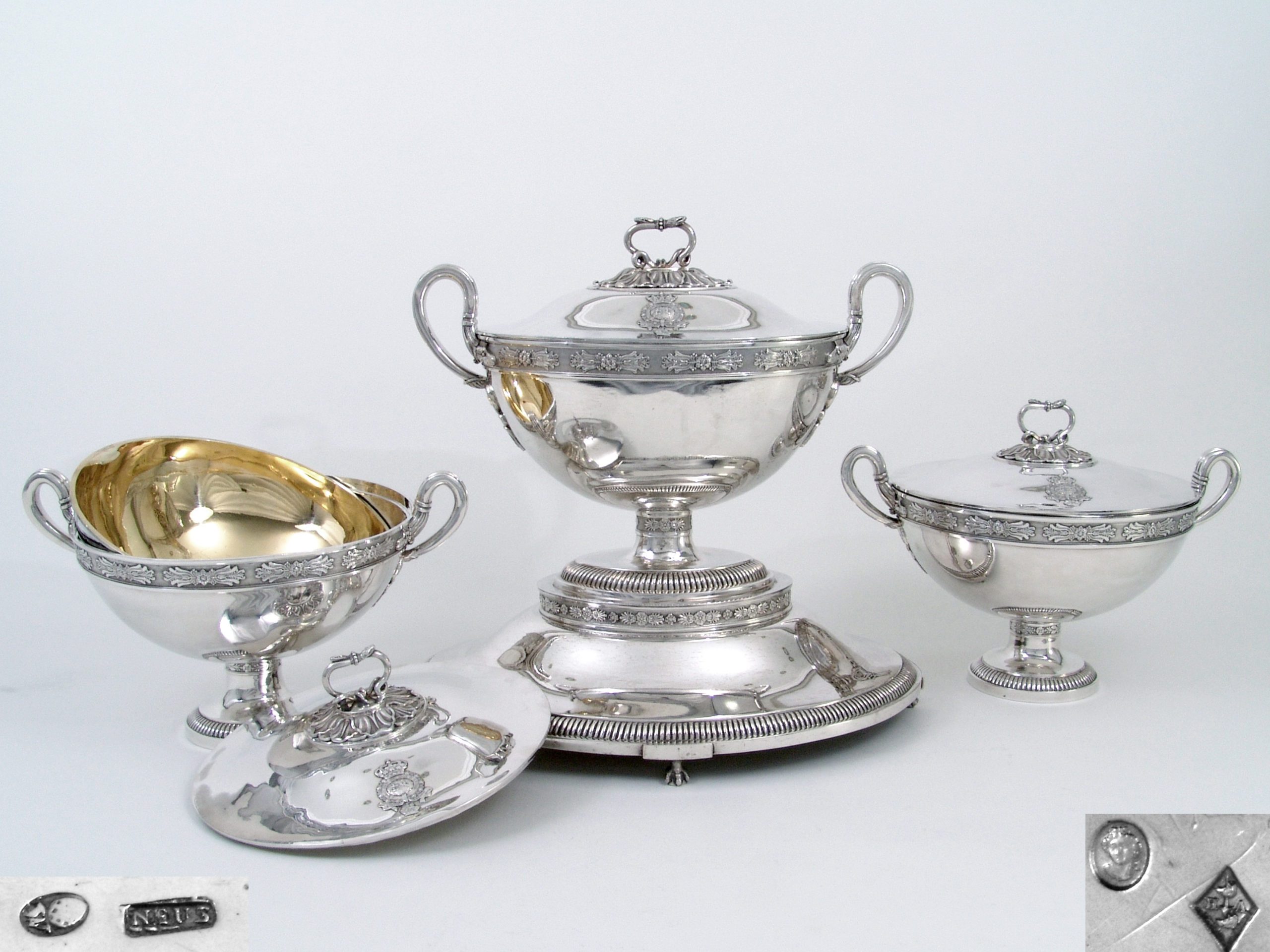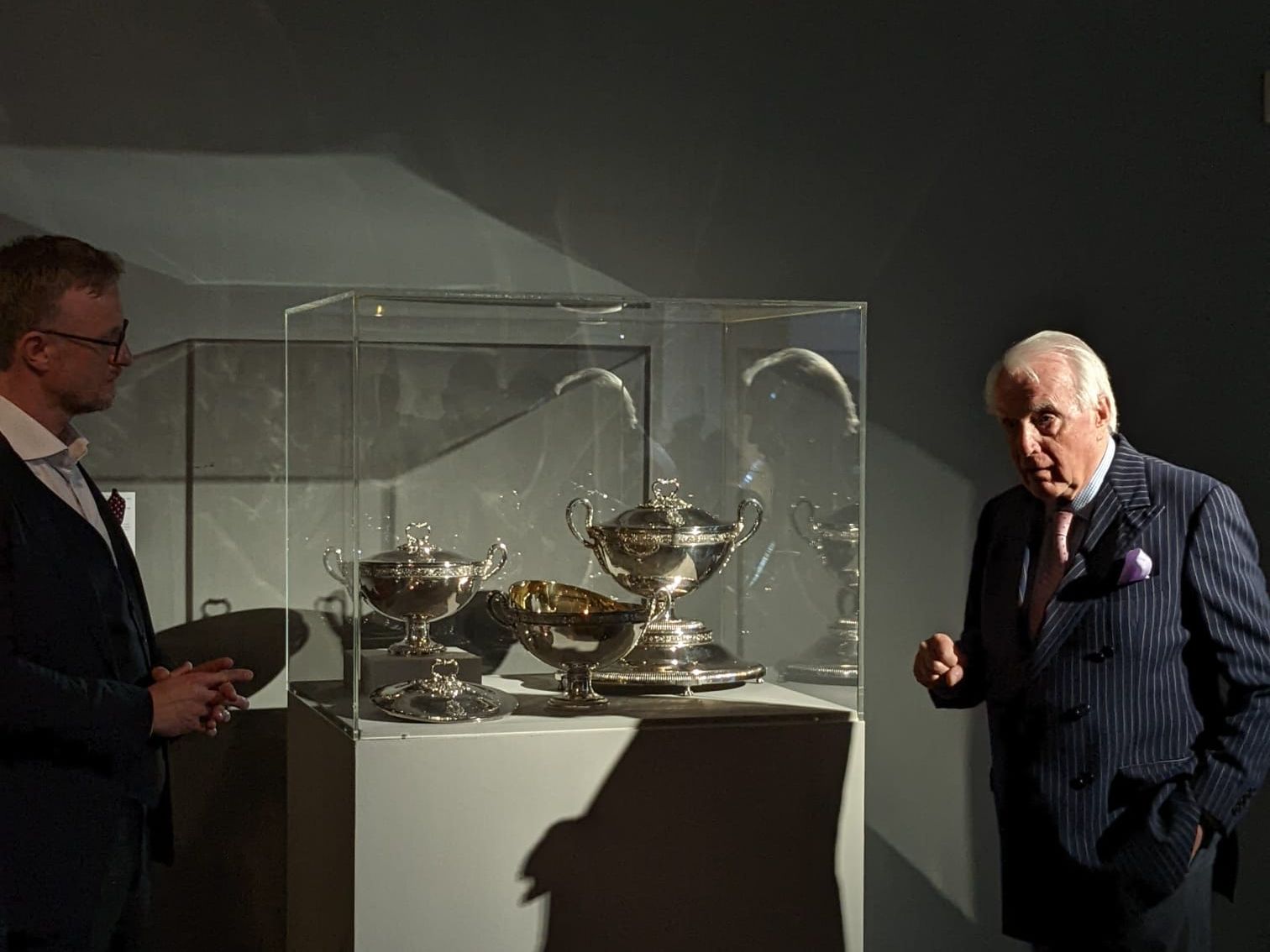 TRANSFORMATIONEN
Der letzte Raum liest sich wie eine Sublimierung des Ausstellungsthemas. Er greift die traditionelle Materialität des Silbers in Form einer "Baroque Maria Immaculata figurine" auf, erweitert sie und transformiert sie ästhetisch mit Werken zeitgenössischer Künstler, die sich mit Materialauflösung im Licht, Spiegelungen und Verdopplungen in Spiegelbildern beschäftigen.
Um jedoch das vertiefende Erlebnis der Ausstellung als Ganzes nicht zu verderben, halten wir hier inne, denn wir möchten genügend Spannung schaffen, damit Sie eine Reise nach Schwäbisch Gmünd planen, die wir nur wärmstens empfehlen können.
Die Ausstellung verkörpert die Essenz von Silber im Laufe der Zeit, seinen Wert, seine kreativen Möglichkeiten, seine sich ständig weiterentwickelnden Formen und seine zeitlose Inspiration, die bis in die Gegenwart reicht. Wo das Historische neben dem Zeitgenössischen in einer friedlichen Harmonie von Kunstgeschichte und ästhetischer Freiheit steht.
Wenn Sie weitere Einzelheiten zu unseren Stücken oder der Ausstellung wünschen, können Sie sich gerne an uns wenden. Alternativ folgen Sie Instagram, dass regelmäßig aktualisierte Einblicke in unsere ständig wachsende Sammlung bietet und weitere wunderbare Ausstellungen oder Messen vorstellt.
Mit besten Grüßen,
Fred Matzke, Chantal und Holly Smith
Dear Art Lovers
The Gmünd Museum in the Prediger, is showcasing an exhibition entitled 'TIMELESS SILVER' from the 23rd of October until the 10THof of April 2023. The Museum collaborated with us, HELGA MATZKE Kunsthandel, and the research institute Edelmetalle + Metallchemie (fem) in curating this astounding and intellectually tantalising exhibition.
This special genius loci is the starting point for the special exhibition 'TIMELESS SILVER', which focuses on the material advantages, the versatility and the visual properties of this  fascinating metal. The cool silver shine of the material is incomparable, which – depending on the type of treatment – ​​appears polished to a high gloss, as a mirror, or matted, as a bright, still strongly reflecting surface. In six thematically structured chapters, more than 80 masterpieces of historical and contemporary silversmithing enter into an epoch-spanning dialogue and tell their stories as commissioned work or as extraordinary, artistic creation: starting with a courtly spoon, probably made in Burgundy around 1400, through church utensils and courtly table silver to a spatial ensemble specially designed for the exhibition.
The design with silver offers many creative and technical possibilities. Knowledge of material content is the basis for transforming a simple or exceptionally complex design into a three-dimensional art object. The exhibition explores the various different techniques a silversmith utilises in shaping and artistic elaboration with regard to the textures and structures of surfaces, highlighting the continuity of century-old working methods up to the present day. This offers the opportunity to study the manual techniques available to gold- and silversmiths: in addition to the obligatory casting, chasing, hallmarks and gilding, engraving and etching. With regard to the technical and design aspects of silversmith as an art, the exhibition aims to convey a quality awareness of the characteristic features of production in the dominant arts and crafts centres of Central Europe in the early modern period. The diversity of these centres highlights pieces from Augsburg, Nuremberg, Ulm, London and Paris.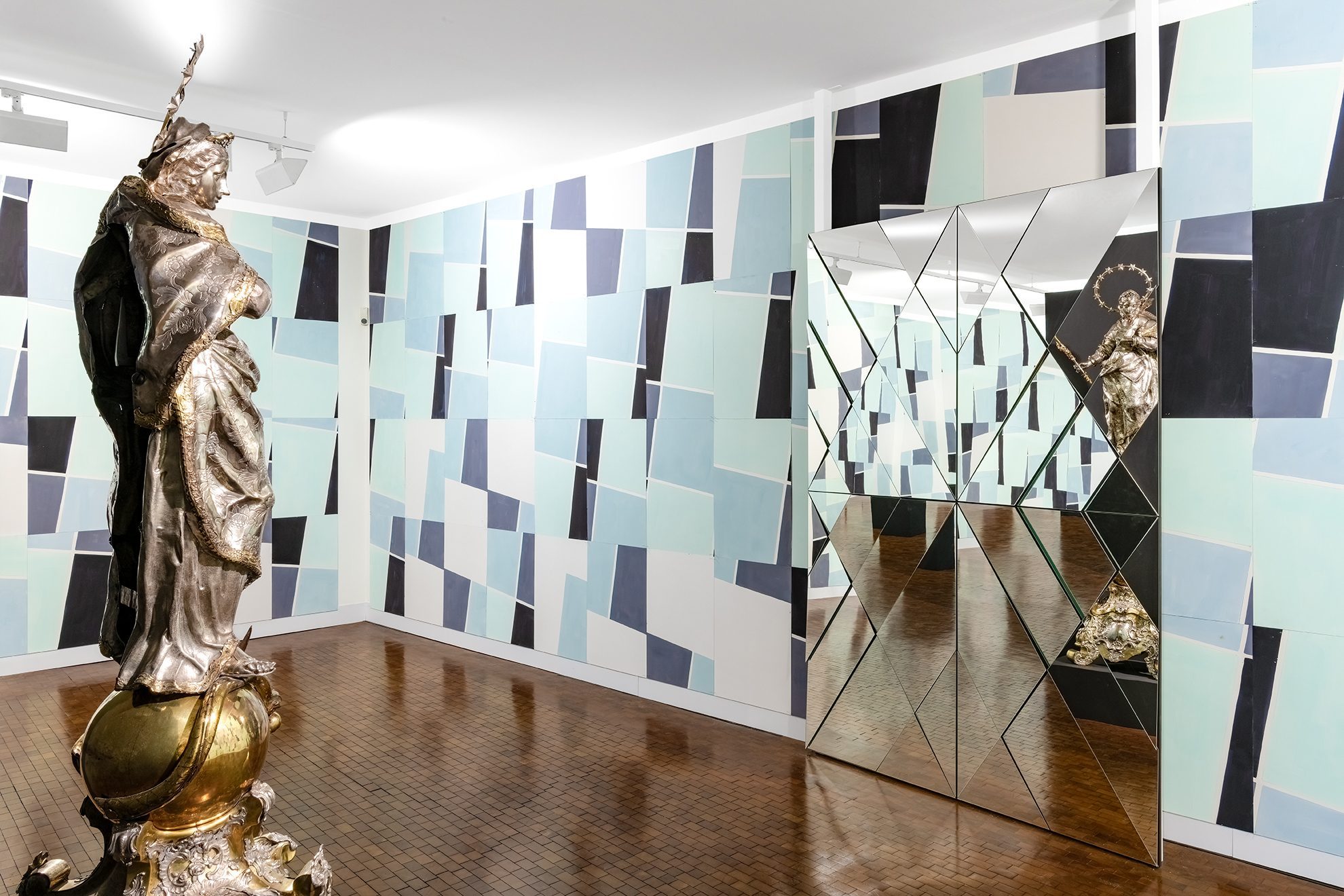 GMÜND
The Departure point for this special exhibition is the location, the special spirit that Schwäbisch Gmünd has characterise as a city of gold and silverware production. Schwäbisch Gmünd being tightly entwined with the production and history of silver was central to the essence of the exhibition's growth and gravity, which continues into the present day.
Exhibited within the collection on display are two French silver spoons, outstanding examples of the goldsmith's art, and as such furthering our understanding of late medieval dining culture. The oldest silver piece of the exhibition, a spoon from Burgundy around 1400, recently acquired from us by a private collector, embodies the table culture of the Renaissance. At a time when spoons were still carved from wood, its creation in a precious metal displays a decidedly luxurious and ever-appealing timelessness, in its slender design.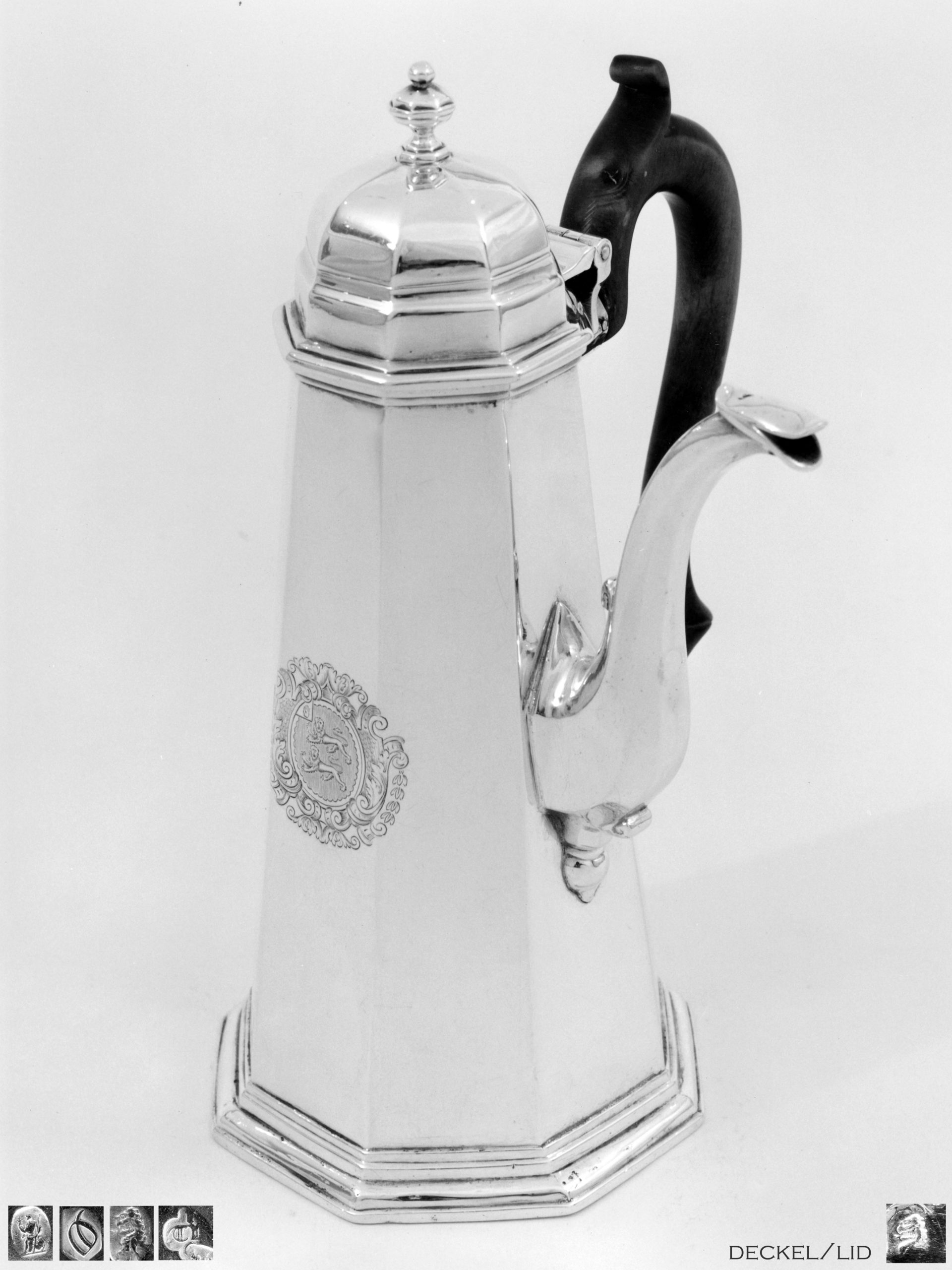 Design, Form and Decoration
The second most prevalent chapter is that of design form and decoration, encapsulated perfectly in the displayed collection of beakers and coffee pots. Beakers being the most widely sought-after silver object throughout history, tracing its aesthetic development created a comprehensive narrative whilst also a visual anchor within the exhibition, aiding to highlight the central ideas and concepts of the curator's intention.
Our beaker by Memmingen maker Christoph Laminit from around 1630 reveals how the 'snake-skin' design, which was extremely popular in the 17th century, can be continued in a timeless modern way. The exacting craftsmanship needed to execute a snakeskin effect on a beaker is the perfect introduction into how silver beakers were receptacles for inspired masters to explore and experiment with the precious metal. Our beaker sits alongside a contemporary beaker from Fabian Färber, 2015, from the collection of Schwäbish Gmünd. Although depicting varying textural detailings united in their surface, manipulative techniques on both beakers create visual spectacles and curiosities.
These technical possibilities are further displayed with our 1700 lidded tankard from Halle/Salle, Master: August Hosse. The cylindrical body of Hosse's vessel is gilded and enclosed in a detachable, openwork relief mantle in white silver. This unusual technique adds contrast and depth to the acanthas' lead decoration as well as the biblical scene depicted.
The Series of Silver coffee pots not only illustrates an impressive range of design possibilities but also illuminates how the design changed over the course of three centuries. The story begins with our Coffee pot from London, 1713/14 with the master marks, Robert Timbrell and Joseph Bell as the oldest on display. Boasting an impressive geometric form that nears abstraction, the coffee pot begins the series with a statement. Thereby bringing into question the central themes of the exhibition; the progression of design in silver and the timeless effort of the material.
The Play of Light and Shadow
The interplay of light and shadow is central when displaying silver in any situation. Its delicate and thoughtful cooperation within this exhibition is imperative to the magnificent impression of the pieces on show. Particularly well observed is this with three tureens, property of Ernest Augustus I, King of Hannover marked in Paris 1798 and 1809 as well as Augsburg 1811, on loan from our collection. The form and function of the tureen ensemble play delightfully with shadows, emphasising the magnitude and significance of the pieces in their entirety and in their place within history. Similarly, we display four dishes from the service of the Dukes of Württemberg-Oels from Wroclaw, Silesia 1761-1771, which are unusually trefoil shaped with profiled edges, bringing the spectacle of light into play when observing the significance and effect of silver.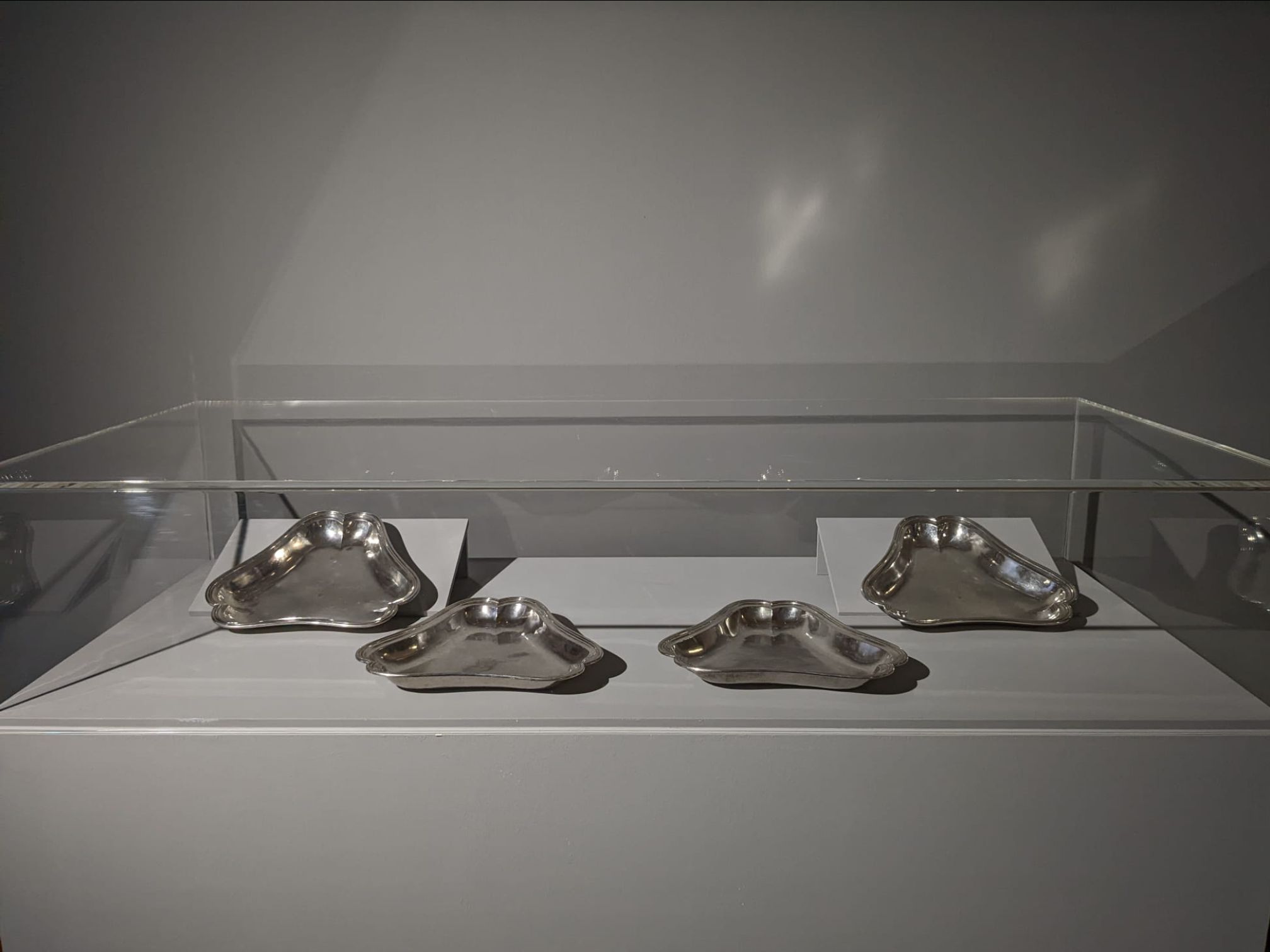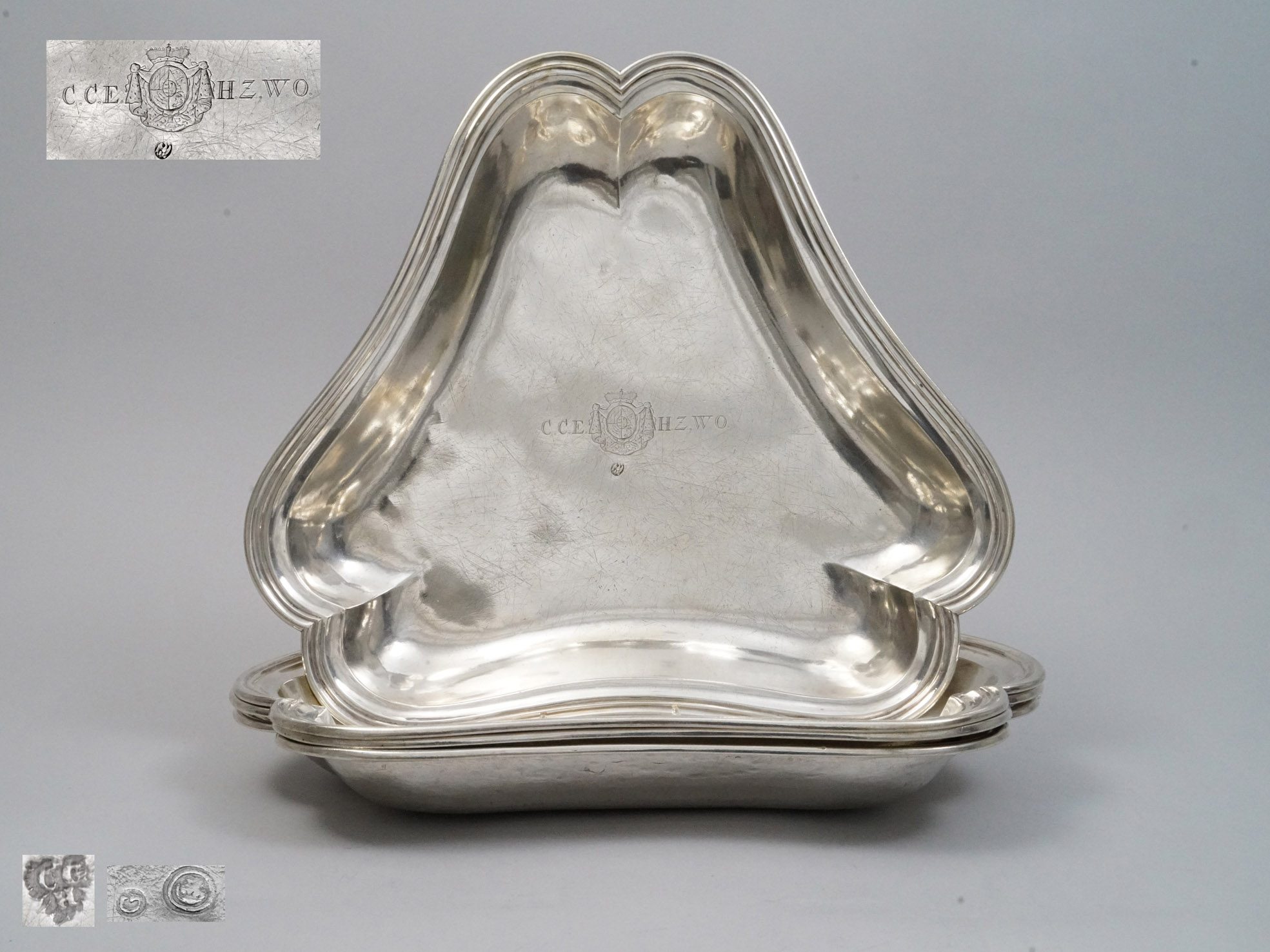 Transformations
The final room reads like a sublimation of the exhibition theme. It revisits the traditional materiality of silver in the form of a late Baroque Maria Immaculata Figurine, expands it and aesthetically transforms it with works by contemporary artists that are concerned with material dissolution in light, reflections and duplications in mirror images.
However, in an attempt not to spoil the immersive experience of the exhibition as a whole, we halt at this point as we have the intention to create enough suspense for you to plan a trip to Schwabsich Gmünd which cannot be recommended highly enough.
The Exhibition encapsulates the essence of silver throughout time, its worth, its creative possibilities, its ever-evolving forms, and timeless inspiration which progresses into the present day. Where the historical stands alongside the contemporary in a peaceful harmony of art history and aesthetic freedom.
If you desire any further detailed information on our pieces or the exhibition, please feel free to contact us. Alternatively, our Instagram offers a closer regularly updated insight into our ever-evolving collection and further wonderful exhibitions or fairs.
With Best Wishes,
Fred Matzke, Chantal and Holly Smith